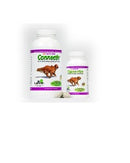 Description
Connectin is natural, herbal-based joint supplement for dogs. Its patented formula contains a unique blend of herbs and both of the body's own joint building blocks, in clinically tested levels. 100% guaranteed.
Joint building blocks: Glucosamine HCl & Mucopolysaccharides
9 natural herbs: Yucca Root, Alfalfa, Devil's Claw, Nettle Leaf, Turmeric, Ginger Root, Black Cohosh, Celery Seed and Cayenne Pepper.
Connectin has been proven safe and effective in clinical trials by independent veterinarians. It is 100% guaranteed and carries the National Animal Supplement Council quality seal.
Chewable Tablets
Active Ingredients (per 3 gram tablet)

Glucosamine HCl 99%+ (shellfish) 500 mg
Mucopolysaccharides (porcine source of chondroitin sulfate and hyaluronic acid) 250 mg
Yucca Root 135 mg
Nettle Leaf 100 mg
Alfalfa Extract 50% 85 mg
Devil's Claw Extract 2.5% 55 mg
Celery Seed 25 mg
Black Cohosh Root 25 mg
Ginger Root Extract 5% 12 mg
Turmeric Extract 95% 2.5 mg
Cayenne Pepper 2.5 mg
Inactive Ingredients - Dicalcium phosphate, dried pork liver, magnesium stearate, microcrystalline cellulose, silicon dioxide
Granular Powder
Ingredients (per scoop)
Mucopolysaccharides (porcine source of chondroitin sulfate and hyaluronic acid) 1200 mg
Yucca Root 1200 mg
Glucosamine HCl 99%+ (shellfish) 625 mg
Alfalfa 500 mg
Devil's Claw 100 mg
Nettle Leaf 300 mg
Celery Seed 50 mg
Black Cohosh 50 mg
Ginger Root 50 mg
Turmeric Root 50 mg
Cayenne Pepper 5 mg
Inactive Ingredients - Natural porcine liver flavor
Dosage Instructions for Chewable Tablets
Initial Dosage
| Weight | Daily Dosage |
| --- | --- |
| Under 10 lbs | 1/2 Chewable Tablet |
| 20 - 40 lbs | 1 Chewable Tablet |
| 40 - 60 lbs | 2 Chewable Tablet |
| 60 - 80 lbs | 3 Chewable Tablet |
| 80 - 100 lbs | 4 Chewable Tablet |
| 100+ lbs | 5 Chewable Tablet |
Maintenance Dosage
| Weight | Daily Dosage |
| --- | --- |
| Under 10 lbs | 1/4 Chewable Tablet |
| 20 - 40 lbs | 1/2 Chewable Tablet |
| 40 - 60 lbs | 1 Chewable Tablet |
| 60 - 80 lbs | 1 1/2 Chewable Tablet |
| 80 - 100 lbs | 2 Chewable Tablet |
| 100+ lbs | 2 1/2 Chewable Tablet |
Initial Dosage
Maintenance