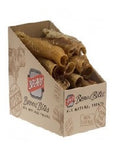 Description
BRAVO! Dried beef trachea is a fantastic natural treat that helps clean teeth and is a natural source of Chondroitin Sulfate and Glucosamine for strong healthy joints.
This is a great all-natural 100% beef trachea chew for dogs of all sizes.
Many pet bones and chews today are imported from foreign countries and have no set quality standards. Bravo treats and chews are made in their own USDA-inspected plant using human grade beef. This treat is exceptional in quality and superior to other trachea products on the market. It is air-dried and varies in length between 10-12." Dogs love them, and they offer a great alternative to their usual chew treats.