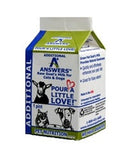 Description
DESCRIPTION:
Raw goat's milk is a great immunity supplement. Dog's and cat's love it. Think of it as the best probiotic ever. Live enzymes that strengthen the immune system. Helps with irritable bowel, sensitive tummy, and a host of other health issues. I give my dogs this every day and they absolutely LOVE it!
Tip: If your dog or cat is on any type of antibiotic they should be having goat's milk to keep up the good flora in their system.
Answers Raw Goats Milk for Dogs and Cats, pint, quart
When Do I Use Goats Milk For My Dog?
When your dog is on antibiotics
Allergies
Digestive issues
Throwing up
Ear infections
Arthritis
Mouth ulcers
Loose stools
Diarrhea
Cancer Fighting
Itchy skin
Kidney infections
When Do I Use Goats Milk For My Cat?
Throwing up
Loose stools
Constipation
Kidney infections
Helps to hydrate
Diarrhea
Cancer Fighting
Important Facts About Answers Goats Milk
No GMO
US Sourced
Biodegradable and/or recyclable packaging
Not pasteurized (prefered way to deliver probiotics) but unique fermented nutrition for a healthy gut
NUTRIENT ANALYSIS:
Nutrients

Answers Raw Goat Milk on As Fed Basis
(100g, 3.5 oz. serving)
Crude Protein
3.56%
Arginine
0.119
Histidine
0.089
Isoleucine
0.207
Leucine
0.314
Lysine
0.290
Methionine-Cystine
0.13
Phenylalanine-Tyrosine
0.334
Threonine
0.163
Tryptophan
0.044
Valine
0.240
Crude Fat
4.14%
Linoleic Acid
0.11 g
Linolenic Acid
0.04 g
Carbohydrate
4.45%
Minerals
Calcium
134 mg
Phosphorus
111 mg
Ca:P ratio
1.2 : 1
Potassium
204 mg
Sodium
50 mg
Magnesium
14 mg
Iron
0.05 mg
Copper
0.046
Zinc
0.30 mg
Selenium
1.4 mcg
Vitamins
Vitamin A
57 mcg
Vitamin C
1.3 mg
Vitamin E
0.07 mg
Thiamine
0.048 mg
Riboflavin
0.138 mg
Pantothenic Acid
0.310 mg
Niacin
0.277 mg
Pyrodoxine
0.046 mg
Folate
1 mcg
Vitamin B12
0.07 mcg

Choline

16 mg
Energy: 21 kcal per 1oz. or 336 kcal per pint