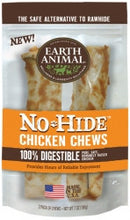 Description
Holy Cow, We did it! At last, a safer, healthier, better alternative to Rawhide. No-Hide Chews gives new meaning to dog treats. When it comes to our true core values, we insist on quality and we never settle for second best. We were tired of unacceptable ingredients and chemicals. This is why we created No-Hide they are one of the first chews of its kind and Hide free!
Our No-Hide Chicken Chew is a long-lasting, 100% digestible chew, created for your dog's enjoyment and your own peace of mind. The chicken has been carefully rolled, cooked, and uniquely dried for a one of a kind chew your dog will love!
Our pledge to you is this: No-Hide Chicken Chews are always made from American farm-raised chicken with no added hormones, steroids or chemicals. No-Hide Chicken Chews give new meaning to dog chews. Try the safer, healthier alternative today!
Calories: 7"- 50 calories per unit 4' 35 calories per unit
Our 100% pure, natural chicken chews are digestible, safe and nutritious and have absolutely NO chemicals or additives. Every No-Hide Chicken Chew is made in our USDA inspected human food facility. We know your dog will love our tasty, 100% digestible No-Hide Chicken Chews.
Ingredients:
Chicken Chews: Chicken, Chicken Gelatin, Brown Rice Flour, Organic Eggs, Olive Oil, Banana, Bromelain (Pineapple).

NO-HIDE BENEFITS
100% Digestible
Safe and Nutritious
Durable, Long-Lasting Chew
Promotes Healthy Teeth and Gums
Made with Real American Farm-Raised Chicken
Manufactured in our USDA Inspected Human Food Facility
No Chemicals or Additives